Hobart Airport
Hobart International Airport connects southern Tasmania with the world. One of the fastest growing airports in Australia and a key gateway for Antarctic and Southern Oceans research.
Services

User interface, web design, strategy, development, infrastructure, hosting

Technology

Wordpress, Amazon Web Services

Visit the site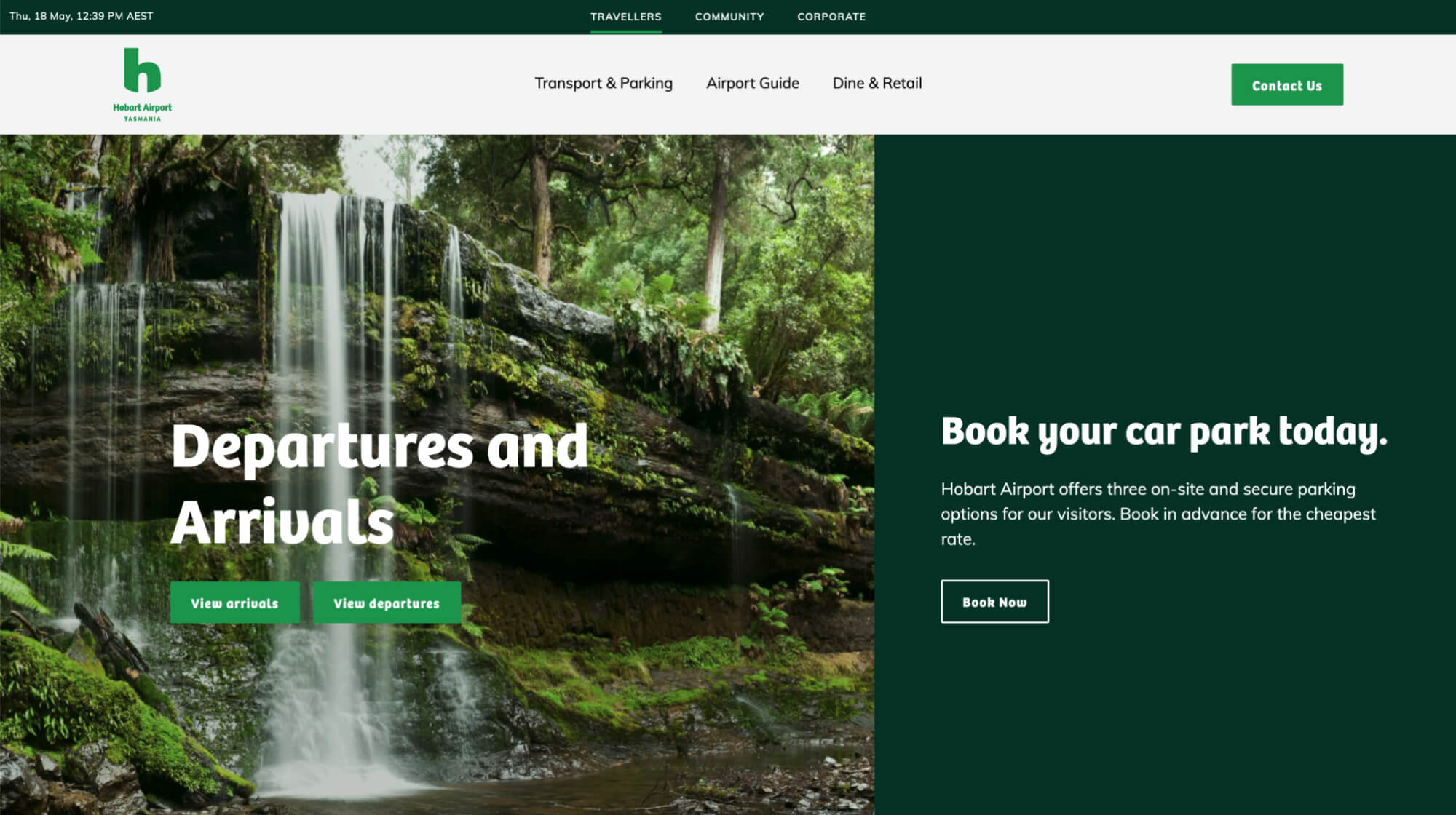 Located a mere 15-minute drive from the city, Hobart International Airport is southern Tasmania's window to the world. As one of Australia's fastest-growing airports and a critical gateway for Antarctic and Southern Oceans research, Hobart Airport plays a key role in connecting people, places, and ideas.
At Ionata Digital, we were entrusted with the exciting task of developing a new website for Hobart Airport - a platform that mirrors the dynamic spirit of the airport and the people it serves. Our goal was to build a website that goes beyond aesthetics, incorporating flexible content management, accessible web build, and real-time arrival and departure information. This website is not just a digital space but an intuitive tool for travellers, researchers, and airport staff alike.
Understanding the critical role that Hobart International Airport plays in Tasmania's connection with the world, our mission was clear: to create a digital platform that reflects the airport's growth, efficiency, and commitment to user experience.
The initial phase of the project centred on creating a design that was not only visually appealing but also user-friendly. Our design team prioritised ease of navigation, ensuring travellers could readily access essential information such as flight times, airport services, and visitor information. The layout was meticulously planned to offer a seamless user experience across all device types, from desktops to mobiles, reflecting the diverse audience of the airport's clientele.
Recognising the diverse range of users that would interact with the site, we prioritised accessibility in the web build process. We meticulously adhered to best practices and standards to ensure the website was accessible to all users, regardless of their physical abilities or the devices they used.
The airport buzzes with activity around the clock, and travellers depend on accurate, up-to-date information. So, we integrated real-time arrival and departure information into the website, providing travellers with reliable data at their fingertips.
The outcome is a comprehensive, user-friendly website that reflects the dynamism and efficiency of Hobart International Airport. The site combines a striking design with practical features and accessibility, providing a valuable resource for travellers, airport staff, and the broader community.